In January of 2018, I returned to work after maternity leave. I had put my hair into two–strand twists; which had become one of my favorite hair styles in the 7 years since I had stopped perming my hair in 2011. But with 3 babies at home, I decided to not take them out — ever.
People may wonder what exactly is up with Black women and their hair? Especially today in the year of 2023 when we are so more open minded about beauty standards. But we still have a long way to go. Consider how Michelle Obama waited until she was several years removed from her FLOTUS role until she started rocking out her natural hair. There are over 855 million views of videos tagged 'silk press' on Tik Tok. It really boils down to one thing:
Beautiful hair = long & straight hair
The psychological impact of beauty, including hair, is very strong on women. I see another pointed instance of it among Orthodox Jewish women who are starting to or considering covering up their hair after marriage. Many women have a hard time taking this task on. From my perspective – I do not personally understand; since many Black women acquaint themselves with wigs and hair coverings early in life (although there is not the added psychological burden of it being a law or needing to be done in a particular way — like in Judaism). However I fully recognize that these women do in fact struggle.
The unique struggle that Black women have with their hair should also be recognized. Locs (also known as dreadlocks — although that term is falling out of favor) have a very African and exotic aura about them (in spite of being a hairstyle for many non-African people around the globe). People who are not familiar with locs may assume that they are dirty or that they are a sign of proper hygiene. They may also not understand that locs are not easily removed or styled as loose hair.
Many people may also not realize the issue with self-esteem that confronts many Black women who loc their hair. Many people, but women especially, agonize over starting to loc their hair due to needing to go through what is commonly called the 'ugly' stage — where the loose hair starts to frizz and mat and develop into the more permanent loc structure.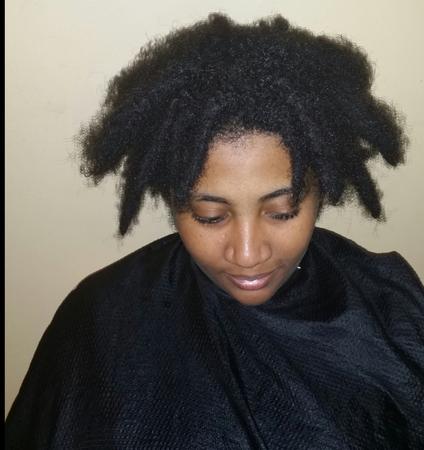 Sadly this is when Black women catch a lot of flack for making the choice to loc our hair. I had very little encouragement or compliments in that first year of my hair journey. Even my partner at the time voiced disapproval. What really helped in my case is that I grew up around many people who had locced hair (including my Dad). And I was adamant that locs suited my lifestyle more than any other hair style.
---
So here I am, 5 years later. I still haven't combed my hair! Here are my take-aways from my hair journey so far.
Hair Length – I no longer fret over this. This was not the case in the first 2 years though. I remember looking up the hair journeys of other women who locced their hair. They would have hair touching their back after 2 years and mine was still around my face. Here's the reality: everyone's hair growth rate is different. It isn't tied into hair type or if your hair is damaged/breaking off either. My son's hair type is 3B and very fine and grows slowly (just like mine). Ultimately your hair does grow. And while dreadlocks can be cut, enjoy them while they are short. They will be lighter and there will be styles that you can do with short locs that you won't be able to re-create when they are long. Embrace every part of your journey!
Don't Become a Slave to Products – for sure, there are some things that I put on my hair that I love. But here's the thing – locs are sponges for products. They will trap things…..including the wrong things like lint and smoke. Therefore I am an absolute minimalist when it comes to my hair. Clear, non-sulfate shampoos and water and oil. I use light gels for retwists a few times a year. That is it. No conditioner…..nothing creme based. And definitely no dye!
Do Not Let Your Hair Define You – just because you have locs, don't let it define what you can do or the type of person that you are. You can be sexy, earthly, rebellious, conservative, etc. Stereotypes are broken when there is more exposure in all segments of society.
Discrimination Based on Hair Should Be Illegal – As of today, the Crown Act, which would make discrimination based on hairstyle, has not passed where I live. This is really shameful. No one should have to miss out on opportunities due to their hairstyle.
Five years in, I definitely do not regret my decision – in spite of the lack of support. I think of the time and money (money especially) that I've saved and that alone is a huge reassurance to me. I still have yet to go to a hair stylist or loctician. If anyone knows of someone in or around the Harrisburg, PA area – let me know!