In my previous post, I wrote about having an incompetent cervix and how devastating that diagnosis is. You feel like a very broken woman when you discover that your body just can't carry a baby — something that millions of women do all of the time, multiple times, without any problems. You see pregnant women who run and workout and do all of this physical activity with no problem. In the meantime, when I was pregnant, I was afraid to stand up and even walk around for the fear that my baby would just fall out.
Just devastating.
But I thank God that I live in the information age — where you can find and talk to other women who have gone through this (because trust me, every woman that I knew in real life never heard of the issue that I was going through). One of the main sources of information and comfort that I found was Abbyloopers – a private web forum where I read the stories from so many women that had a similar story to mine. And they were big evangelists for something called a transabdominal cerclage.
What Is This Magical Thing?
So a transabdominal cerclage is similar to a vaginal cerclage. The main difference is that it is placed higher up on the cervix….so you have to go through the abdominal cavity to place it. Only the very bottom part of the cervix is accessible via the vaginal canal. If you are unsure of what that looks like, check out the site My Beautiful Cervix.
So think of a balloon — if you tie a knot a bit higher on the neck of the opening, the entire balloon is more stable. Also, the cervix protects the contents of a pregnant uterus. That barrier to the outside world needs to stay closed and intact until it gets closer to the end of the pregnancy term.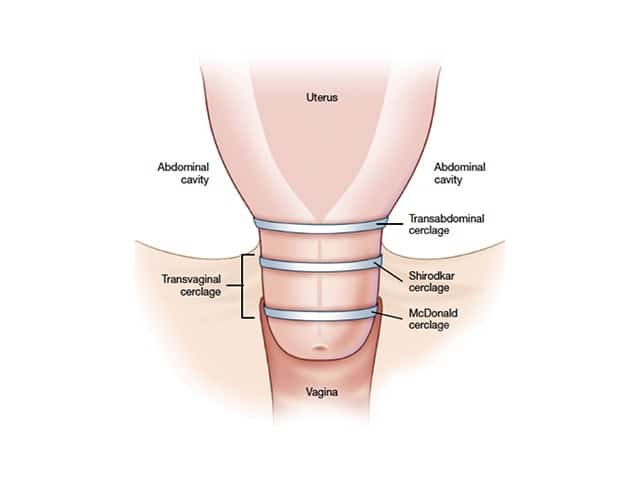 The placement of the cerclages is also a bit different. For the vaginal cerclage, they actually use medical grade fiber and stitch through the cervix to close it — almost like you would do with stiches. The transabominal cerclage is a mersilene tape that is wrapped around the cervix.
Vaginal cerclages have an 80-90% success rate; with 'success' being defined as a viable live birth. That doesn't sound terrible, but as I was also finding out on the premature rupture of membranes (pPROM) groups, even with a vaginal cerclage you had women on bedrest; babies who needed NICU time; just not very encouraging accounts it seemed. Meanwhile the women who got TACs seemed to have normal pregnancies. The success rate for the TAC is greater than 97%.
Great! Let's Get This Done (Oh, Not So Fast)
After two pregnancy losses in the second trimester, I was determined to do everything I could to prevent it from happening again. But for reasons that I'm not quite sure of, placing a transabdominal cerclage is not something that most obstetricians do. In fact…very few do. Abbyloopers maintains a list and right now, it has 253 doctors worldwide. When I was going through the thick of this in 2015, Dr. Haney, based at the University of Chicago (he is now retired), was deemed 'the expert' in TACs in the US. Fine. Let me get the number, and call them up. Which I did…which brings in the second snag.
Medical Insurance
A TAC can be placed either during pregnancy, or prior to pregnancy. Every doctor that does TACs there their own approach…but generally, if you get a TAC placed before you are pregnant, then it can be done laparoscopically. That means, a few small incisions are placed in your abdomen. The surgeon can use a robotic arm to place the band. Easier recovery and you don't have this small window of time to deal with.
So it makes sense that many women with incompetent cervix would want to get the TAC placed before they are pregnant. So that it is already in place to start working once they conceive.
Welp, the insurance companies don't necessarily agree. They see it as an expensive operation that is being done to fix a 'problem' that doesn't exist. Again, I can only speak on what I went through a decade ago….but it was really hit or miss as to whether or not your insurance would pay for your pre-pregnancy TAC. Also Dr. Haney's office didn't take my insurance either way. I was living in the Pittsburgh, PA area at the time so hospitals in Chicago were definitely out of my network.
Fine. So I will just wait. Once I conceive again, I'll set up a game plan to get a TAC placed…somehow.
My Problem Pregnancy
The first trimester of my next pregnancy was a hot mess. I had changed my healthcare provider/network (from the big name hospital in the city to a regional provider who just started a labor & delivery unit in the hospital where my Mom works — that entire situation was a Godsend). But unlike my previous pregnancies I had spotting and major morning sickness. As soon as I found out that I was pregnant, I reached out to another TAC doctor….Dr. James Sumners in Indianapolis to see if he would place a TAC. And I will hands down tell you — I never experienced such professional, excellent prenatal care….ever. From the very first email that I sent….he and his staff were responsive. They talk to you on the phone. The hospital they were based at (which may have changed…I know that since my surgery, Dr. Sumners left Indianapolis for a while, but then just recently returned) – but anyway the hospital was incredible. It was a small place – but they had incredible amenities like 24/7 food services; flat screen TVs that also provided internet access for you to web browse; service/support animals; private rooms – really incredible.
Back to my 'problem pregnancy' though – Dr. Sumners said that since I was pregnant, he would perform an open TAC placement….so basically you are cut like you are having a c-section. And the window of time for that to happen was between 12-15 weeks pregnant. Apparently the uterus needs to be big enough so that the junction between the uterus and cervix can be seen; but the fetus can't be big enough to start giving the cervix problems.
And since I lost a baby at 15 weeks…I felt like I had an even short window!
9 Weeks
In a nutshell….I thought it was all over then. I was in the grocery store over by the dairy section. I was wearing a long black skirt (thankfully). I moved my foot and thought that I had stepped in a random grocery store mess. When I looked down, I was standing in a puddle of blood. It was insane! I felt no pain. Just blood that seemed to be covering the lower part of my body and was pooling on the floor. I remember running out of the grocery store….leaving red footprints everywhere I walked. Until this day I feel really bad for whoever had to clean that up!
I had always heard that you never wanted to see red blood when you were pregnant. Well I had it pouring out of me it seemed. I went to my local ER. Since they don't do maternity care there, they had to call in a special ultrasound tech. If felt like forever before she got there. In the meantime, no one would tell me anything. 9 weeks. So much for my plan of a TAC. I felt utterly defeated.
---
When the ultrasound tech came, she wheeled me to an empty area of hospital. It seemed so incredibly dark and desolate. She fired up the dreaded ultrasound machine. But unlike other ultrasound techs, she turned the screen towards me a bit and said "You see that. That's the baby — and the heart is beating. It's still in there."
I was shocked. Subsequent discussions with doctors and I was introduced to yet another term of complicated pregnancies: subchorionic hemorrhage. That's what this was. Yes, I was bleeding (lots of) red blood, but it was just because the placenta was settling into the uterine wall. As long as there was no cramping or passing of clots/gestational sac….I was ok.
Well, except for the ball of stress and anxiety that I turned into.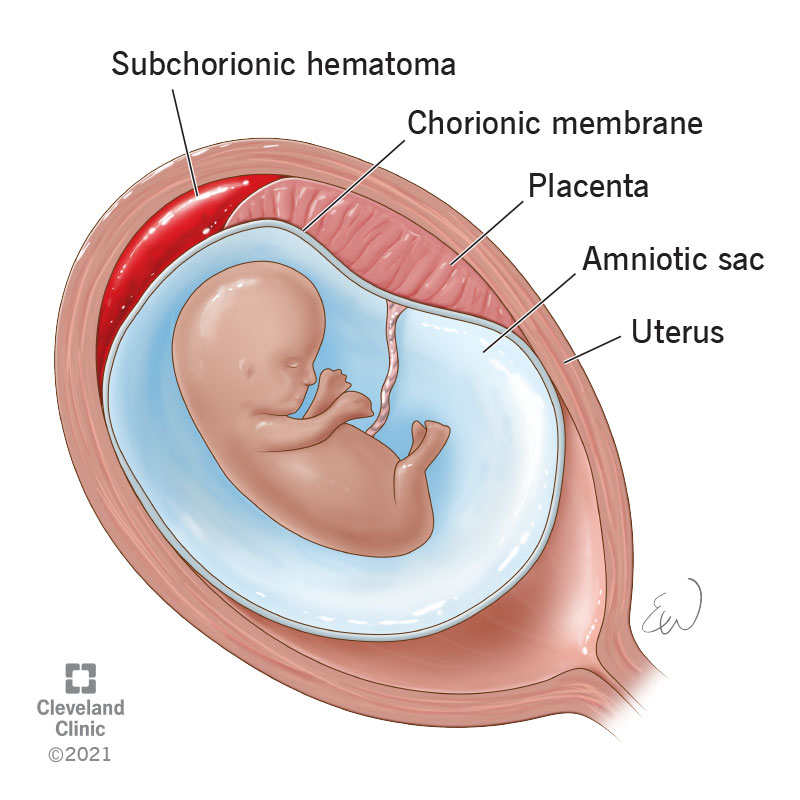 I called Dr. Sumner's office like 10 times…working about my scheduled TAC placement date at 12 weeks. They assured me they would do another ultrasound and make sure things were good. In the meantime, I continued to bleed. It eventually did taper of to nothing. But only a few days before I was leaving to go to Indianapolis. I should have been excited and hopeful….but instead I felt on the verge of a breakdown.
---
Thankfully the ultrasound in Indianapolis found no issues and the TAC was placed. I was incredibly sore afterwards. Probably because it was the first time that I was cut open like that. But no other problems. Oh, and I told my OB/GYN back home AFTER I got the surgery. I'm not suggesting that (Dr. Sumners did call him to discuss follow-up care — so it wasn't a complete surprise by the time I got to my next appointment). But I personally feel that in the area of medicine….egos clash a bit more than they should when really, what is best for the patient should take precedence. Thankfully my doctor was ok and didn't lecture me or make me feel bad. But I've heard stories from other women who had doctors that told them that getting a TAC would be overkill and it is not needed.
Well I beg to differ.
C-Section(s) and Baby/Babies
Another caveat with the TAC is that you can't have a vaginal birth. A vaginal cerclage is removed before your baby is born. You can't do this with the TAC, so your baby has to be delivered via caesarian section. I know that there are a lot of women who are devastated by this prospect. They really want to have vaginal births. But not me. Not after all of the hell I had been through up to that point. I just wanted a healthy baby!
I had my c-section date scheduled. I was ready to go! But apparently, my son couldn't wait quite that long. 5 days before my scheduled c-section day, my water broke.
Curiously I wasn't in paid at all. And I wasn't panicked either…..because he had already been gestating for 38 weeks. In a few hours my scheduled c-section became a sorta-kinda-emergent one. But in a few hours, he was out and well over 6lbs!
I was in awe. The TAC worked! Thanks to the advice and encouragement of kind strangers on the internet, I had given birth to a live baby!
But the story doesn't end there!
I had never given birth to a baby before. I didn't realize that you bleed for like…..7 weeks after you have your child! My post-partum appointment had a prescription for birth control. But I figured I didn't need it. I was a mess….I was bleeding….I was breastfeeding…I was far from being a fertile myrtle before, so why bother?
The bleeding stopped…..but a new period never came. Hmmmm…….
---
I don't remember how long exactly I was in denial that the various physical issues that I was having was due to pregnancy. But at some point I did break down and get a dollar store pregnancy test. Positive. Ok….so not expected, but I'll roll with the punches here. I had a boy….so hopefully this will be a girl. I'll just get this done and over with. I am inching up on 38 years old so I may as well crank out the babies while I still can.
My TAC was still in place and I had no serious worries…..in spite of being labeled high-risk automatically due to my age and previous adverse history with pregnancy. I was a bit too lax….and missed the 1st trimester ultrasound screen. I scheduled my next ultrasound for 16 weeks. But had to reschedule…so didn't get in until 18 weeks.
Terrible I know!
2 days before the ultrasound, my doctor was measuring my fundal height and commented that I was measuring big. However that can happen when you have a pregnancy so close in on the heals of another one. Plus she only detected one heart beat. She said (and I quote) "It's not like there are twins in there or anything."
Well….you were wrong doc! Because 4 months later I end up with:
Bruh!!!!!
I have to say, in spite of my lackluster prenatal routine with the twins (I was taking care of a newborn at the same time); the TAC seemed to hold even better with the twins. They actually did make it to their scheduled c-section date at 38.5 weeks (which I thought I would never make it too — they were crowding my organs and I could barely eat at the end). In fact, I don't think the one twin was ready even then because he seemed to have quite the attitude for the first 24 hours of his life.
---
So yeah, I know this was super long. But to any woman or couple out there who is dealing with any of the issues that I dealt with (infertility, incompetent cervix; pPROM; subchorionic hematoma) — there is hope. I thought that I would never have biological children. And now I have three of them! Yes it happened a lot later than planned and not under the best of circumstances. Other mom's are talking about getting back to the pre-baby bodies and I am scoping out retirement plans and styling my hair in a way to hide the gray hairs. But it's all good. Don't give up hope and don't ever feel like you are alone in this. 90% of couples seeking treatment for infertility do eventually go on to have a child. So keep the faith.